This Time I'm Going To Do It!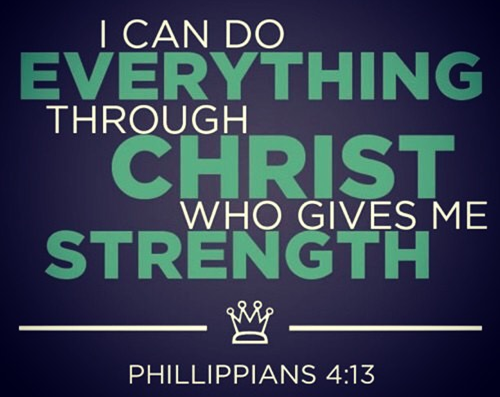 I was watching the Today show earlier this week and noticed that most of the topics centered on making and following through on New Year's resolutions. In the past, I have made resolutions that started out great on January 1, but by March or April I had "fallen off the wagon." When this would occur, I would feel disappointed momentarily, but would then ease my discomfort by saying, "I will try again next year."
I went through this for many years until something changed for me. For some people it is easy to create a strategy and follow through, while others may start strong and slowly fall away as I did. The apostle Paul in his letter to the church at Philippi suggests that the key to following through is to give credit to Christ for each of our accomplishments on the journey.
For both the things we find difficult as well as the things that come easily to us, we must give Christ all the glory. Philippi was a town where many retired Roman soldiers resided, and they were very loyal to the government. But now that they were followers of Christ, Paul suggested that they must have a similar if not a greater love for Christ who was their spiritual savior and leader. How do we give Christ the credit and accomplish our goals simultaneously? Let me share three ways of focusing my thinking in order to accomplish my desires. Hopefully they may be of help to you.
First we have to consider how what we want to accomplish in the New Year will further God's kingdom. For example, if you want to return to school, this will help you be a better educated follower of Christ.
Second, we must consider giving God the credit for each step toward reaching this goal. Sometimes people wait to thank God when it's over or complete. I have found it helpful and strengthening to thank God for each small victory along the way.
Finally, if this goal is for your betterment, perhaps it started with God providing the original idea. Entrust that God is by your side with every decision and each step you make, and remember that what God started God is able to finish. The Apostle Paul explains this in these words:
"Being confident of this, that he who began a good work in you will carry it on to completion until the day of Christ Jesus." -Philippians 1:6
In 2018 you will get it done!
HAPPY NEW YEAR!