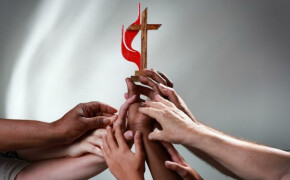 On Sunday, February 10, all Covenant members are invited to attend a church meeting in Bethany Hall at 12: 30 PM in order to learn about the upcoming Special Session of General Conference of the United Methodist Church.
We will share a potluck luncheon in Bethany Hall immediately following the 10:20 AM service, and then at 12:30 PM hear from Rev. Joe DiPaolo of 1st UMC, who is a delegate to the special General Conference.
From February 23 to 26, 2019, 864 delegates from all over the world will convene in St. Louis, Missouri, to act upon the report from the Commission On a Way Forward as well as related petitions. The Commission was authorized by the 2016 General Conference and appointed by the Council of Bishops to examine paragraphs in The Book of Discipline of the United Methodist Church concerning human sexuality and to explore options to strengthen the unity of the church. The goal is to find a way forward realizing that disagreements exist within the church about same-sex marriage and the ordination of LGBTQ clergy.
Rev. DiPaolo will provide background on the work of the Commission and explain the plans that are being proposed to the General Conference. One of the three chief proposals is the Traditional Plan, which maintains the current Discipline's ruling prohibiting same-sex marriages and ordination of practicing homosexuals. The One Church Plan allows for same-sex weddings within the church and homosexually active pastors, with decisions to be made at the conference and/or local church levels. The third plan is the Connectional Conference Plan, redesigning the organization of the UM Church with three connectional conferences based on shared values rather than location. More information regarding these plans and General Conference will be shared at the church meeting along with a call to prayer.
The Eastern Pennsylvania Conference will send eight elected delegates to the 2019 General Conference, four clergy and four lay members. Please pray for these delegates as well as all delegates who convene together that they may know God's leading.